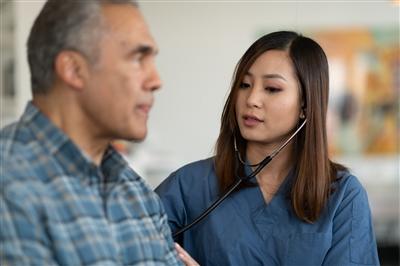 Lung cancer claims more lives each year than breast, prostate and colon cancer combined. Unfortunately, it's also a cancer that is rarely detected early.
"By the time people begin to experience the symptoms of lung cancer—a raspy or bloody cough, shortness of breath, recurrent pneumonia and bronchitis, chest pain—it's often when the disease has reached advanced stages. This makes it more difficult to treat," explains Kareem Ibrahim, MD thoracic surgeon at Main Line Health.
New lung cancer screening can reduce lung cancer deaths
Lung cancer screening options were also limited in their ability to detect the disease early—until recently. In 2013, the United States Preventive Services Task Force (USPSTF) approved a new lung cancer screening test: a low-dose computed tomography (CT) scan.
Unlike traditional chest X-rays, which are limited in their ability to detect a tumor in its earliest stage, this CT scan can detect lung tumors and abnormalities when they are as small as a grain of rice. It does this by taking dozens of X-ray images of the lungs from several different angles—far more than a traditional chest X-ray.
"A CT scan provides a much more comprehensive view of your lungs than traditional chest X-rays, which only detect tumors when they've grown to be about the size of a small coin," says Dr. Ibrahim. As a result, lung cancer can be detected earlier and treated sooner. Low-dose CT scans can lower the risk of death from lung cancer by 20 percent in high-risk patients.
Who is considered at high risk for lung cancer?
People who are smokers or who have a history of smoking are at a higher risk for lung cancer than people who have never smoked. But, even within these groups, some people are at a higher risk for lung cancer than others. This includes people who:
Are between 55–80 years old
Are an active smoker or have quit within the past 15 years
Smoked at least one pack per day for 20 years or two packs per day for 15 years
If you fall into any of these categories, you may be eligible for a low-dose CT scan. Other factors, like your history of lung cancer and disease, may also make you more eligible to receive this low-dose CT scan. If you are currently a smoker or you have a history of smoking, ask your doctor whether or not this scan might be right for you.
The screening is paid for by many insurances, including Medicare and Medicaid. Be sure to check with your own insurance company to determine whether you'll have any out-of-pocket expenses. In most cases, the fees—if any—will be small.
Recognizing the signs and symptoms of lung cancer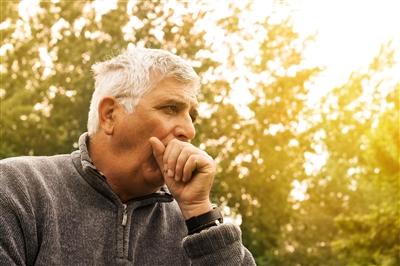 While a CT scan remains the most effective way to detect and diagnose lung cancer early, it's still important to recognize symptoms that may be early indicators of lung cancer. These symptoms include:
Shortness of breath
Weight loss
Headache
Bone pain
Symptoms like these should prompt a visit to your doctor—especially if you have a history of smoking or exposure to carcinogens.
"Lung cancer kills 160,000 Americans every year and is often only discovered in the later stages, when it is difficult to treat. Early detection, before it spreads to other areas of the body, makes it is easier to treat and can save your life," says Dr. Ibrahim.
Need more information about the lung screening?
The experts with the Main Line Health Lung Cancer Program are your partners in preventing, diagnosing and treating all stages of lung cancer. We offer lung cancer screenings at eight convenient locations in the Philadelphia suburbs. Call 484.565.LUNG (5864) and a nurse navigator will help schedule your screening, including getting a prescription from your primary doctor. Take this quick quiz to find out if you're a candidate for a lung cancer screening.
Main Line Health serves patients at hospitals and health centers throughout the western suburbs of Philadelphia. To schedule an appointment with a specialist at Main Line Health, call 1.866.CALL.MLH (225.5654) or use our secure online appointment request form.