PGY3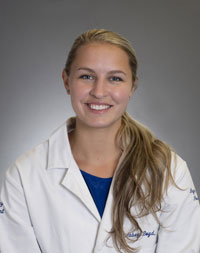 Abbey Boyd, DPM
BoydAb@mlhs.org
Hometown: Bethlehem, PA
Undergraduate: University of Scranton
Interests/Hobbies: Playing cards, movies, spending time with family
Why I chose Main Line Health: Main Line Health offers diverse surgical opportunity including the types of surgeries as well as the many attendings we get to work with.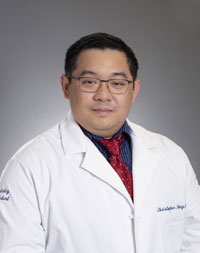 Christopher Fung, DPM
FungCh@mlhs.org
Hometown: Fountain Valley, CA
Undergraduate: University of California Irvine
Interests/Hobbies: Swimming, tennis, badminton, going to the gym, broadway musicals
Why I chose Main Line Health: Great healthcare system with wonderful attendings, a rich learning environment with wide variety of surgical cases.
Matthew Modugno, DPM
Chief Resident ModugnoM@mlhs.org
Hometown: Lugoff, SC
Undergraduate: University of South Carolina
Interests/Hobbies: My professional interests are sports medicine, reconstruction, and trauma of the foot and ankle. Outside of work, I enjoy spending time with family and friends, being outside, going to the beach, and sports.
Why I chose Main Line Health: It is a very well rounded program. Our surgical training is high volume and diverse with everything from elective procedures, to limb salvage, trauma, and joint replacements. Residents are treated with respect and have a lot of autonomy. We also get significant clinical exposure through wound care, sports medicine, and private practice clinics which is great exposure and experience for practice after graduation.
PGY2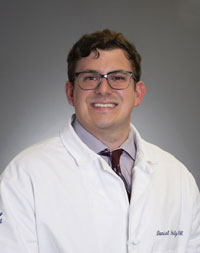 Daniel Fritz, DPM
FritzD@mlhs.org
Hometown: Allentown, PA
Undergraduate: Muhlenberg College
Interests/Hobbies: Swimming, watching sports
Why I chose Main Line Health: Excellent training with diversity in surgical cases. We have the opportunity to learn from a large number of attendings.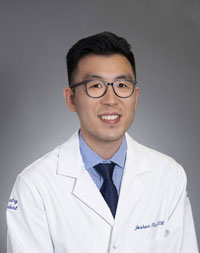 Joshua Kim, DPM
KimJosh@mlhs.org
Hometown: Richmond, VA
Undergraduate: Virginia Commonwealth University
Interests/Hobbies: Sports, video games, reading, cooking, eating
Why I chose Main Line Health: The MLH Podiatry Residency Program has shown consistently high and varied surgical case volume, with an emphasis on resident autonomy and decision making that made it an appealing program for me.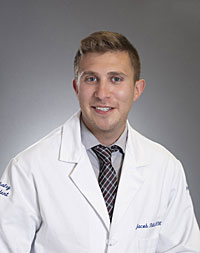 Jacob Roth, DPM
RothJa@mlhs.org
Hometown: Rochester, NY
Undergraduate: SUNY Genesco
Interests/Hobbies: Hiking, working out, playing basketball, traveling, cooking
Why I chose Main Line Health: Main Line Health stressed the importance of "Human Care" over other hospital systems I visited.
PGY1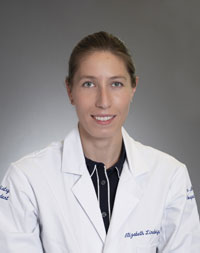 Elizabeth Lindvig, DPM
LindvigE@mlhs.org
Hometown: West Chester, PA
Undergraduate: West Chester University of Pennsylvania
Interests/Hobbies: Gardening, hiking, baking
Why I chose Main Line Health: Main Line Health has a high standard of medical care and training.
Vincent Migliori, DPM
MiglioriV@mlhs.org
Hometown: Hamilton, NJ
Undergraduate: Towson University
Interests/Hobbies: Golf and skiing
Why I chose Main Line Health: Exceptional case volume and diversity. Great facilities and staff throughout all of MLH. Bryn Mawr Podiatric Medicine and Surgery residency program provides a great team atmosphere which is very conducive to a learning/training environment.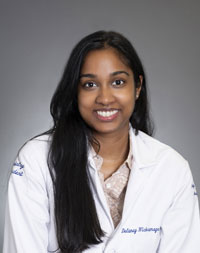 Delaney Wickramage, DPM
WickramageD@mlhs.org
Hometown: Bethesda, MD
Undergraduate: James Madison University
Interests/Hobbies: Travel, food, books, and surfing
Why I chose Main Line Health: Main Line health is a rigorous and cultured learning environment and I fell in love with the people who work at Main Line health, their kindness made all the difference.