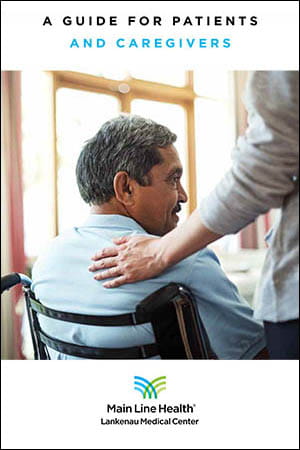 Thank you for choosing Lankenau Medical Center, where our priority is integrating the finest in patient care, education and research.
Our patient guide
We have prepared this patient guide to better acquaint you with Lankenau, our health care procedures, and patient and guest services. We encourage you to read it and to become familiar with your patient rights and responsibilities.
View our patient guide for more information including:
Telephone directory
Admission guidelines
Parking locations
Services available during your stay
Cafeteria location and hours
Safety information
View the Lankenau Medical Center Patient Guide
Visiting hours
Main Line Health patients are permitted to have visitors 24 hours a day, seven days a week, as long as it is not disruptive to their healing. Visitation will be individualized to meet the patient's and family's needs. Main Line Health staff members will support and facilitate this to the best of their ability whenever possible. Main Line Health may need to limit or restrict visitors to better care for the patient or other patients and to protect their health, privacy and safety. The patient has the right to be made aware of any clinical limitations or restrictions.
Visitors are limited in the OB/NICU units at all hospitals per the following guidelines: Family and friends above age 12 may visit from 11:00 am to 8:00 pm. Dads/partners may visit 24 hours a day and stay overnight. Grandparents may visit 8:00 am to 8:00 pm. Siblings (brothers and sisters of the new baby) may visit 11:00 am to 8:00 pm and must be supervised by an adult (other than the mom) at all times. A child who has not had chickenpox or the chickenpox vaccine may not visit. The chickenpox vaccine is usually given at 12 to 15 months of age. Any visitors, including siblings, who are not feeling well (e.g., cold, flu, fever) should not visit.
Patient advocacy information
Our staff is available to help you and your family with questions or complaints concerning your stay and to explain hospital policies and procedures. Main Line Health encourages you and your family to openly communicate with your physicians, nurses and other caregivers to resolve your questions and concerns. Lankenau Medical Center wants you and your family to feel comfortable raising questions, concerns, complaints or issues.
For assistance, contact the hospital's patient advocate at ext. 2345, or from outside the hospital at 484.476.2345.
Questions, concerns and complaints
To share your concerns, suggestions or experience with any Main Line Health hospital, please contact our Patient Relations Department by calling 484.337.2662. You or your representative can also file by mail by sending your written grievance to Regulatory Department, Gerhard Building, 130 South Bryn Mawr Avenue, Bryn Mawr, PA 19010, fax to 484.337.2013, or email MLHPatientRelations@mlhs.org. Please note that this fax number is not to be used for medical record requests.