Delivering the best care possible—day after ever-changing day
As the world begins to recover from the widespread effects of the coronavirus (COVID-19) pandemic, Main Line Health remains committed to delivering the best care possible. At the start of the pandemic, we postponed non-essential procedures, delayed in-person visits or replaced them with new care options like telemedicine appointments, which have provided added convenience and peace of mind for patients. Telemedicine continues to also be successful in supporting our patients with substance use disorders and behavioral health needs.
---
How we are keeping you safe
With the implementation of new policies, we are pleased to inform you we are gradually increasing appointment schedules and resuming essential procedures and surgeries. Main Line Health has carefully considered the necessary measures needed to responsibly and safely resume care, without compromising the health and safety of our patients, visitors and staff. This includes special precautions for our maternity patients.
We understand you may be concerned about re-engaging in certain activities at this time, which may include visiting a health care facility. Rest assured that our COVID-19 response includes rigorous procedures to protect those in our care:
Screening of all patients, visitors and staff for COVID-19 symptoms before entering a Main Line Health facility. Patients with symptoms will be referred for testing. Those testing positive for COVID-19 will receive instructions from their provider to determine if an appointment or surgery should be rescheduled.
All staff, patients and visitors are required to wear a mask or face covering at all times. Masks with valves, neck gaiters and bandanas are prohibited. Those who arrive at any Main Line Health facility without a mask will be provided one, both for their protection and that of others.
Lobbies and waiting areas have been rearranged to promote social distancing. To help maintain six feet of separation between patients, staff and visitors, our facilities will employ floor placemats, directional diagrams and other flow management measures, as needed.
Staggering appointments and offering extended hours at some locations. This will reduce the number of patients within waiting areas and allow extended time for cleaning in between patient visits.
Telemedicine services will continue to be a resource for your non-urgent or time-sensitive medical needs. These virtual visits help to reduce risk by limiting the amount of people who visit our physician offices.
Extensive cleaning processes are in place across all of our facilities, including wait areas, exam rooms and operating rooms in accordance with infection control guidelines.
Visitation policies
We continue to have safety protocols in place for optimal safety of all who enter our hospitals and health centers. Visitation is limited to minimize the risk of virus spread to patients, staff and visitors, and visitors are allowed only in the following special circumstances:
Labor and delivery, including postpartum - One healthy partner/support person to stay the duration of the visit
Neonatal intensive care and pediatric - One healthy parent
Disabled or special needs patients - One healthy visitor to assist
End-of-life patients - Three healthy visitors at a time
Testing for COVID-19 at Main Line Health
The Centers for Disease Control (CDC) has developed criteria for identifying a "person under investigation (PUI)" for the coronavirus based on what is known about the previous coronavirus cases. Testing criteria is changing daily. Currently, the CDC only recommends diagnostic testing of patients who have a fever or are symptomatic and have been in contact with a person who has tested positive for COVID-19. Please be advised: Testing for COVID-19 is not available at all sites across Main Line Health. If you feel you are at risk for coronavirus, please call your primary care provider to determine if you are a candidate for testing. If you require testing, your primary care provider will tell you where to go for testing.
Antibody testing for people who suspect they may have had coronavirus but who have not been tested is not yet available at Main Line Health, but efforts are underway to make this available as soon as possible. Learn more about coronavirus testing for antibodies.
Anyone who has recently returned from travel should self-monitor for respiratory symptoms. If you become sick, please call the Pennsylvania Department of Health at 1.877.PA.HEALTH (724.3258) and your doctor's office or emergency room before going.
Federal funds provided by way of the Coronavirus Aid, Relief and Economic Security Act, enables Main Line Health System to cover the cost of COVID-19 testing for uninsured patients.  As part of the regulation, we are required to post the cash price for COVID-19 testing SARS-COV-2 (COVID-19), PCR which is $81.60.
Stay informed and stay well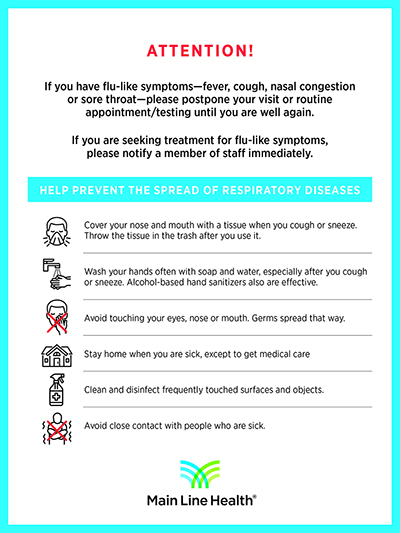 Your continued health is as important as ever. We remind you to take action in seeking care when needed as delaying can lead to critical health issues. Please remember to:
Call 911 or visit your local emergency department if you are experiencing severe or life-threatening illness or injury.
Reach out to your physician, practice or urgent care with health questions you may have. For those interested in a telehealth visit, your health care provider can offer guidance and let you know if a telemedicine visit is right for you.
Make sure you continue regular well-checks and take your medications regularly.
Access your Main Line Health MyChart account to request prescription refills, complete pre-appointment forms or questionnaires, send non-urgent messages to your doctor's office and more. Log in or sign up for MyChart.
Whom to call with questions
If you have concerns or questions about COVID-19 or are exhibiting respiratory symptoms, please contact your primary care provider.
Additional resources
Pennsylvania Department of Health
New Jersey Department of Health