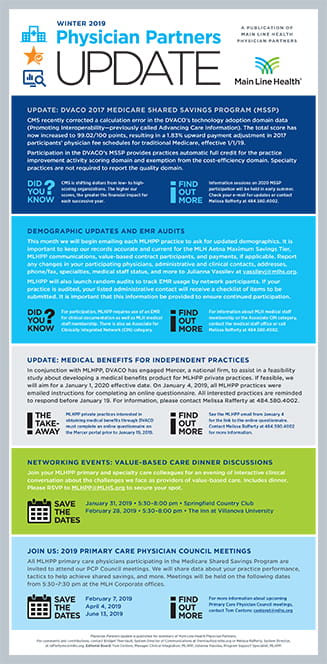 Main Line Health Physician Partners (MLHPP), Main Line Health's Clinically Integrated Network, continues to grow. To serve our mission and foster effective collaboration among our physician partners, communication is key.
We know how busy you are, so Physician Partners Update delivers only the news you need—from upcoming elections, to changes in policy and other items affecting MLHPP members—just a few times a year. We hope you'll find it useful.
Spring 2019
MLHPP independent election results
Medical benefits for independent practices
Working together: PCP-cardiology discussions
Consider participating in these value-based contracts
Are your practice demographics up to date?
View the spring 2019 issue (PDF)
Winter 2019
Medicare Shared Savings Program (MSSP)
Demographic updates and EMR audits
Medical benefits for independent practices
Upcoming networking events
2019 Primary Care Physician Council meetings
View the winter 2019 issue (PDF)
Summer 2018
Medical benefits for independent practices
Is your practice listing up to date?
New! MLH web pages and contact center spotlight MLHPP
MLH EpicCare Link: Enroll for real-time patient updates
PCP meeting: join us October 18
View the summer 2018 issue (PDF)
Spring 2018
Remember to vote in the upcoming managing committee election
Update: group health for independent practices
Join us June 21 for information night about DVACO 2019 MSSP