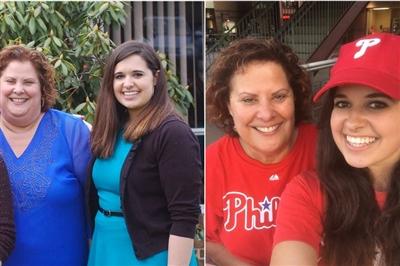 For years, Marilyn Blair had avoided the doctor. It was a tactic she often used to avoid a fact that she knew, but simply didn't want to acknowledge: she was overweight and unhealthy.
But in early 2017, after years of avoiding doctor's visits, she decided it was time to have a physical. The results showed she was pre-diabetic.
Marilyn was at a crossroads.
"My mother had diabetes, and that was a path that I did not want to go down," she says. "I knew I needed to make a change. I needed to get a grip on myself and my health."
Finding a program that fits
After she received her results, Marilyn went home and began researching diets that would help her lose weight and improve her health. She found the New Direction Weight Loss System, a program available at Paoli Hospital, part of Main Line Health.
New Direction, a nutritional food replacement program, offers two diet options to help people with a body mass index (BMI) greater than 30 lose weight safely and quickly and achieve their weight loss goals.
At first, Marilyn was hesitant. She had tried several different diets before, including Weight Watchers and meal replacement diets. Her most recent attempt at a meal replacement diet had been in the early 2000s and—although she'd found success—the program she followed hadn't prepared her for the emotional side effects of losing weight so quickly.
But after conversations with her husband and best friend and saying a few prayers, she was sure the New Direction program was right for her.
"When I remembered the previous meal replacement program I had been on, I admit that I didn't have good memories. But so many changes had been made to the classes, products and program since I first tried it that it seemed like the right time to try again," she says.
Marilyn began her weight loss journey with New Direction on April 6, 2017.
An inspiring journey
As her mother started towards a healthier life, Holly Blair was beginning her own weight loss journey, too.
"In college, my weight kept creeping up and it got to the point where I accepted it. I just thought, 'It is what it is' but I was never really happy with the way I looked," she says.
Holly had previously tried Weight Watchers and at-home attempts like halving her portions and working out diligently, but with no success. So, throughout her college years and as she began her teaching career, she accepted that her weight was just the new normal.
But during a conversation with her mother in spring 2017, she reached a breaking point. She was frustrated with her weight and was unhappy with herself. As it turned out, the timing of their talk couldn't have been better.
"My mom told me she was starting New Direction and, even though she didn't put any pressure on me, she thought I would be open to trying it. It was the perfect time for a new start," says Holly.
Holly's weight loss journey began shortly after her mother's, in May.
Moving in a new direction, together
Marilyn and Holly admit that, while losing weight isn't easy, the New Direction program has made it easier.
Patients who are enrolled in the program can choose from one of two diets: VLCD (Very Low-Calorie Diet) or LCD (Low-Calorie Diet) depending on factors like body mass index, health status and weight loss goals. Both use high-protein, low-carbohydrate meal replacements to aid in weight loss. After a period of time on meal replacements, New Direction nutritionists work with patients to gradually re-introduce grocery meals back into their everyday diet.
Marilyn began on VLCD and Holly began on the LCD. After 40 weeks on VLCD, Marilyn's BMI decreased to below 30, so she transitioned onto LCD.
"Although it's not the case for everyone, the program has been easy for me to stick to," says Marilyn. "You have a limited number of product choices when you're on VLCD, but I enjoyed that. There was no guesswork involved. It was just what I needed."
Marilyn and Holly's progress was measured at weekly weigh-ins, where a team of clinicians reviewed their weight and blood pressure. Education classes followed the weigh-ins, and covered topics ranging from exercise tips to fighting temptation to overcoming obstacles.
The duo found these to be especially helpful.
"The classes were a great resource, and they helped me set up my new lifestyle," says Holly.
And for Marilyn—who had struggled with diets in the past because they lacked an emotional support component—the classes were the perfect complement to her weight loss success.
"The emotional part of this process is very hard. When you have a lot of weight to lose, it takes a long time before you or anybody else notices a difference. The 'hanging-in' time is the hardest part, and having access to a community that understands that is important."
They found support outside of the program, too.
"As part of the New Direction program, you're encouraged to 'find your cheerleaders.' Once my friends found out that I was doing this, they became my cheerleaders. They supported me in my journey and some of them even started making healthier decisions, too," says Holly.
Finding success and sticking to it
Now, almost one year after Marilyn's initial decision to begin New Direction, she and Holly have shed over 200 pounds combined.
Holly is now in the maintenance phase of the New Direction program, and Marilyn is close to reaching her goal weight and will transition into maintenance shortly. The maintenance phase is a six-month period during which they'll completely transition back into grocery meals. The two believe that having this transition time will be essential to their success in keeping the weight off.
"One of my biggest worries is that my old tendencies will come back and that when I'm bored or anxious or upset, I'll turn to food. I don't want something like that to happen," says Holly. "Being able to have such a long period of maintenance reassures me that it won't. I'm moving at my own pace and my own comfort level."
Marilyn agrees, saying the pace of the program has helped ensure her success.
"You don't just walk in the door, put down your money and begin. You have to be evaluated by your primary care doctor and you have to be approved by the New Direction physician as well. Everything progresses slowly, and carefully. Transitioning from VLCD to LCD doesn't happen overnight, neither does the transition from LCD to maintenance. These transitions allow not only your body to adjust, but your mind as well."
The Blair women continue to visit the program for weekly weigh-ins and education classes, but they've also taken the message of their success on the road.
Marilyn started a blog to chronicle her weight loss journey and now uses it to inspire others. She posts regular updates about the struggles and victories that can come with losing a significant amount of weight, plus healthy recipes and tips for others who are going through the New Direction program.
Marilyn and Holly frequently post supportive messages in the program's private Facebook group and Marilyn recently spoke at educational classes for fellow members of the New Direction program. She says, "For me, the key to addressing my weight issue was realizing that I needed to address more than just the physical side of who I am. I also needed to incorporate the emotional side and spiritual side. New Direction has given me the opportunity to do just that."
Learn more about New Direction
Learn more about free classes in your community, scheduling a one-on-one counseling session with your prescription, and how to participate in the New Directions Weight Loss Program. call 1.866.CALL.MLH (225.5654) today.